5, 11 and 14~ <3
exeliax
5. What is your favorite costume to wear? Your least favorite?
My favourite has been Hilda for a while, because it's so comfortable and doesn't require a full wig or anything fancy. I only recently beat the main story of the game though….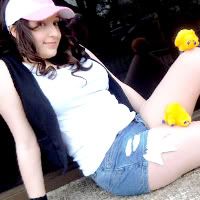 My least favourite is probably Black Rock Shooter… I know now I could've done so much better with it, and those shorts did NOT look flattering from behind…
On the other hand, look how slim I used to be wow… 
11. Describe your worst cosplay experience.
London Expo May 07 I think it was… Mother Nature was paying her monthly visit, and it was so hot on the tube I fainted on the way there.
Then I changed into costume, Bridget with his silly supertight shorts, which was a bad idea because I was in pain all day.
Then I got seperated from my group, and while I was alone my bag got stolen as I posed for a photo… My housekeys and purse (card and £50 cash included) were in there…
Then on the way back, I left my coat on the bus.
It was horrible. 
14. Your most favorite cosplay picture you've ever had taken is …?
Oh, that's hard! It's either this one or this one.
Hopefully AmeCon will bring me some more good photos :D